Milos is hands down one of the most photogenic islands of Greece. The lunar landscape of Sarakiniko beach, the mind-blowing sea caves and cliffs of Kleftiko, the numerous fantastic beaches, along with the picturesque villages of Klima and Plaka have made this island a top destination worldwide.
Finding a place to stay will not be a hard task, since there are a plethora of boutique hotels, rooms to let and studios on the island. Different types in terms of budget and style are offered while there is a variety in locations too. Pollonia village and Adamas port are where the vast majority of hotels are found thus the most popular locations for your accommodation.  Don't forget to check out www.airfarenmore.com when choosing your flights or hotel in order that you find your best deals!    
For those of you looking for a unique stay during your holidays and want to avoid a typical hotel, there are many options too. Staying at a fisherman's house is by far one of the most authentic places to host your Greek summer holiday in Milos. 
The fisherman's "syrma" house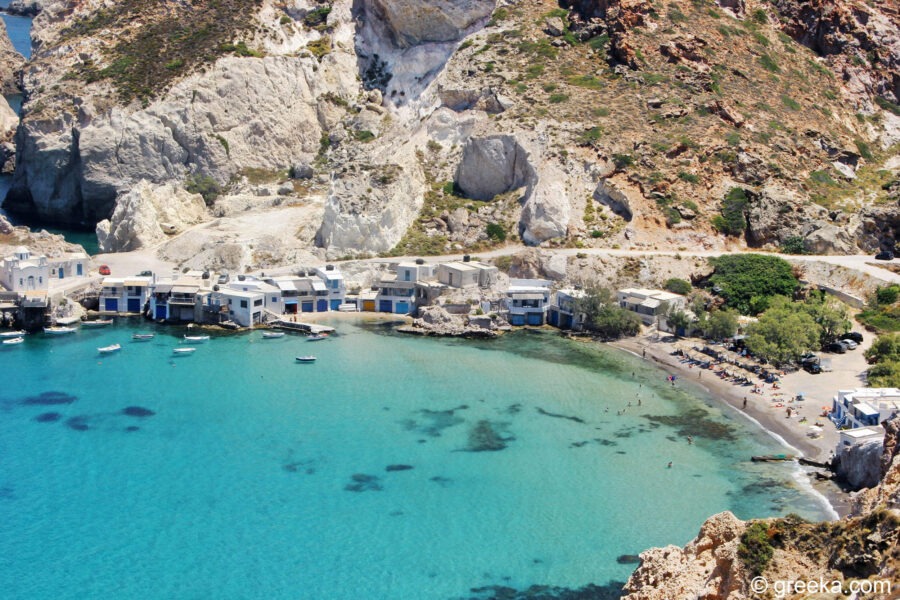 Some of the most interesting and emblematic architectural structures on the island of Milos are the "syrmata" houses. These traditional buildings are located right on the beach while most of them are carved into the rocks. The ground floor was used as a storehouse where fishermen used to park their wooden boats during wintertime in order to protect them from the bad weather conditions on the island and make some reparation work too. The close access to the sea made the transportation of the boat very easy.
Most of those structures have a small apartment built on the first floor right above the boat garage. This place served as a summer house for the fisherman and his family who wanted to stay close to his boat and the sea.
The design of these structures is simple yet very particular. Their facade is painted white but the big wooden "garage" door along with the windows and balcony fences on the first floor are painted in different bright colors such as yellow, red, green, or even mixed colors. It's been said that the color of the houses matches the color of the boat belonging to the same fisherman. The reason is that the paint that was left from the boat painting, was then used to paint the house as well.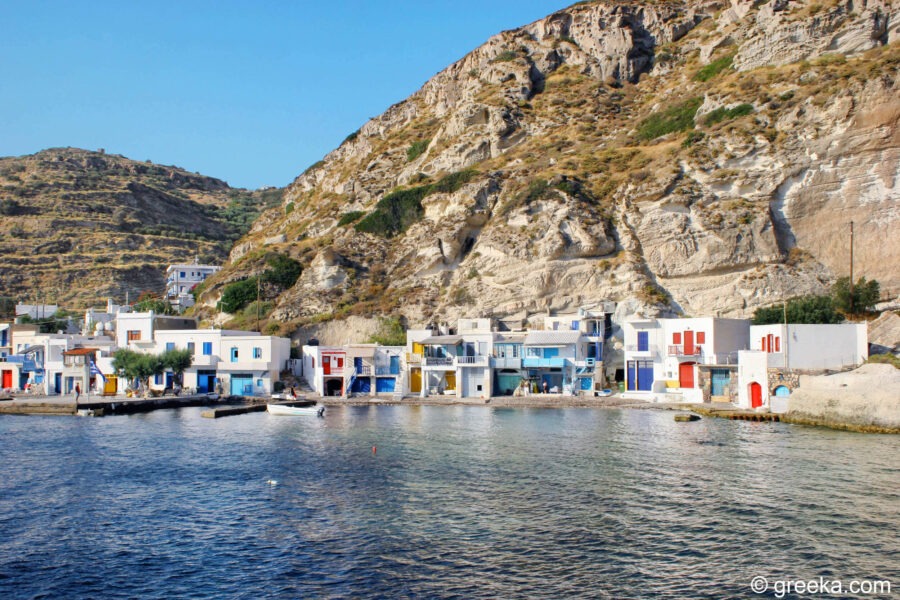 The main village where the "syrmata" houses are located is Klima which is less than 6 km away from Adamas port. It is considered one of the most picturesque villages in the Cyclades and it feels like it has been literally taken out of a postcard! The lovely colours on the houses, the yellow fishing nets that are left to dry all over the harbor and the small floating boats make this place idyllic. Furthermore, it offers one of the best sunsets on the island while Astakas restaurant serves the best and most delicious seafood. 
Other smaller fishing villages with syrmata structures are Mandrakia, Areti, Fourkovouni &  Firopotamos beach.
Stay at a syrma 
Nowadays, some of these buildings have turned into guest houses and are run by locals. They offer very special accommodation and are strongly recommended to travelers who want to experience a more authentic side of Milos. Unfortunately, due to the small number (less than 10), they get sold out quickly, so early booking is necessary. The best of them are:
Dream boathouse: It is in Klima and accommodates 4 persons. Apart from the typical syrma architectural elements, it has a lovely interior design too. Unique pieces of traditional furniture add an even more authentic touch.   
Fisherman house: It is also located in Klima and is ideal for a family of 4 or 5. It was recently renovated with respect to its original architecture while some classic furniture and modern amenities offer extra comfort.
Blue sea house: It is a traditional syrma house in Klima that has turned into a warm and inviting guesthouse. It can accommodate up to 6 persons and is fully equipped offering relaxing accommodation. 
Vasealis & Seafis Sirma Klima: This traditional guesthouse is separated into two apartments and is ideal for couples. Staying here means that you will enjoy nice accommodation with beautiful sea views.
Other syrmata houses where you can book accommodation and enjoy a local stay on the sea are Neosikos beach house, "On the waves of Klima" and "Tsakanos traditional sirma".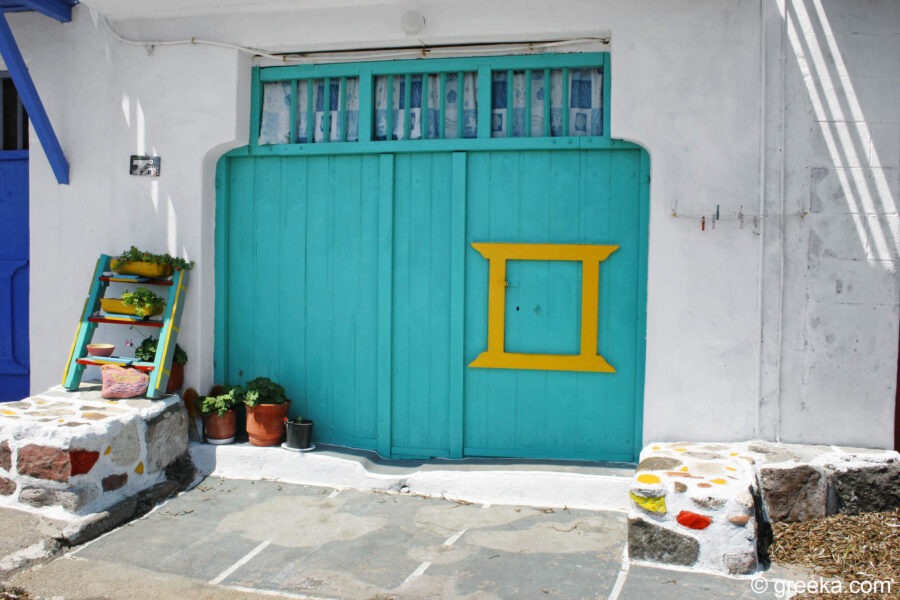 How to get to Milos: Milos is connected with Athens, Piraeus port by ferry. During summer, there are 5-6 daily ferry crossings. The trip lasts from 2 hours and 45 minutes to 4 hours depending on the vessel and the ferry company. Find all ferry itineraries and book your ferry tickets online. 
What not to miss: There are a variety of tours, things to do and places to visit in Milos. Exploring the sea caves of Kleftiko with a cruise or a boat tour remains on top of the list. Being the most popular attraction of the island, an early booking is recommended. Book your tour to Kleftiko online.  
Island hopping from Milos: Milos is a very popular destination for island hopping. Many travelers combine several islands during their visit. The most popular island hopping packages are: 
Athens – Sifnos – Milos, Athens – Milos – Santorini – Paros, Athens – Santorini – Folegandros – Milos, Athens – Milos – Santorini – Mykonos – Paros, Santorini – Sifnos – Milos
The post Milos: Unique stays at a fisherman's house appeared first on GREECE TRAVEL BLOG BY GREEKA.