Greece is famous all over the world for its fabulous sandy beaches with crystal and clear water. The country has the largest coastline in Europe (13,676km) and therefore, thousands of amazing beaches.  Furthermore, they also have some of the best architecturally preserved villages and towns in Greece. With no further due let's dive into the 30 best beaches of the Greek islands and stroll around those picturesque towns! 
30 best beaches on the Greek islands for 2021: 

As one of the most photographed locations on the island of Milos, Sarakiniko is an intriguing result of natural sea sculpting. Its elaborate bone-white rocks, eroded by salt water over time, have many big and small nooks, while the turquoise waters complete the scenery.
Tsigrado is a small seashore of raw, rocky beauty. Its waters are emerald near the white bay and the path to reach it is rocky and quite narrow. It is recommended for adults who seek unordinary adventures in their summer vacation.

Plaka is considered to be a continuation of Agia Anna bay, with its lengthy sandy shore praised as one of the best on the island and in Greece as well. Part of it is organized and a few tourist facilities can be found nearby, but the main stretch is natural and untouched.
Located only 6km away from Naxos Town, Agios Prokopios is an excellent beach to visit during vacation. As a long, soft-sand seashore with crystal-clear waters, incorporating both organized and natural parts, it can accommodate every taste.
Situated next to the Paradise bay, it is one of the most beautiful, gay-friendly, organized beaches on the island. Super Paradise can be reached both via bus and water-taxis. Its powder-like white sand and piscine-resembling sea will captivate your heart.
At only a short distance from Chora, the main village of Ios, Mylopotas is a sizable sandy bay with crystalline waters. As one of the top beaches in Greece, it tends to get swarmed with tourists, especially after noon. It features natural and organized sides; watersports are available in the area as well.

This bay is incontestably one of the absolute top ones in Greece; with coral pink and white sand, dreamy crystalline waters and a shallow reef expanding there, Elafonissi will steal your heart. Its Caribbean atmosphere has been welcoming thousands of tourists annually. The bay hosts both organized and untouched areas. The reef connects the nearby island of Elafonissi to the main Cretan shore.
When looking for heaven on earth, Balos bay in Crete is the answer. One of the most striking seashores in Greece, Balos resembles a lagoon, as the shallow and soft-sand reef between the main bay of Crete and the nearby rocky island of Gramvoussa connects the area. The white sand along the azure waters creates an otherworldly scenery.
As one of the purest and most beautiful beaches in Greece, Falasarna in the Chania region of Crete is justifiably one of our most loved seashores. With a lengthy bay hosting both organized and unorganized areas, it accommodates every taste.
Alternatively known as Palm Forest bay, Vai is a truly one-of-a-kind seashore. It features the only known palm tree forest in Europe, giving it an exotic reputation. Its powder-soft golden sand blends with the sapphire sea, creating a Caribbean ambiance. It doesn't fall on the lengthy side of the spectrum and while most of it is organized, it obeys a strict visiting time schedule for its preservation.

Situated between rocky and verdant cliffs, Myrtos bay acquired an almost crescent shape, with its white pebbled shore and the azure Ionian Sea intertwining. Rated highly amongst the most idyllic beaches of Greece and of the world, it attracts countless travellers annually. For the most part, it is an organized beach, with few secluded, natural spots here and there.
Featured annually in the top 10 beaches of the world, Porto Katsiki is truly a lifetime experience. Descending from a very abrupt rockside through a pathway, travellers will be astonished by the pristine, turquoise Ionian Sea and white-pebbled bay. Being a well-preserved, pure seashore, it remains unorganized, while any tourist amenities can be found atop the cliff, overlooking Porto Katsiki. The water deepens quickly and the waves are of considerable size.
Kathisma is one of the most praised Lefkadian shores and rightfully claims its place among the top Greek beaches. With powder-like shimmering sand and everblue Ionian waters to caress it, words hardly do it justice. A fantastic verdant and rocky background completes the scenery. It is a semi-organized beach of considerable length, offering both tourist amenities and seclusion.
One of the most photographed Ionian beaches is the Shipwreck/ Navagio bay in Zakynthos. Formerly known as Agios Georgios, it owes its modern name to the shipwreck of a vessel now resting ashore, engulfed by the white sand. When the azure waters and humongous surrounding cliffs are added in the mix, the result is breathtaking. The shore is accessible via a 30' boat ride from Porto Vromi.
For a secluded and serene paradise on earth, Lalaria beach in Skiathos is a perfect option. Reachable only by boat, it flaunts crystal-clear indigo waters caressing its white shore. The immense rocky slopes surrounding it and the elaborate natural arc on its side produce a very photogenic scenery. 
As the most popular bay of Paros, Kolymbithres owes its fame to the numerous sandy coves shaped between intricate white rock formations. The beach is located near the lengthy Naoussa one but maintains its very enigmatic character.
When looking for a convenient, pristine and intriguing beach to spend a summer day, Stafilos is the answer. In close proximity to Skopelos Town, it's a verdant and azure paradise. Semi-organized with a charming fish tavern on-site, it allows for company or privacy even during high season. Small rock islets enhance the stone elements of Stafilos.
Located near the ancient Acropolis of Lindos, this charming little bay of Rhodes exists inside a natural harbor of rocky formations. It boasts crystal-clear emerald waters and golden sand. The beach is organized with tourist facilities on its sides.

Flaunting striking turquoise waters, white sand and pebble shore along its imposing rocky surrounding cliffs, Kyra Panagia is a natural cove of unique beauty. Located only a few kilometers from the main town, it is a semi-organized beach with tourist facilities and few establishments nearby.
Simos consists of two mirroring beaches, Megalos Simos and Mikros Simos; Megalos is the longest bay in Elafonissos, while the two are barely separated by a natural sandy passage. The majestic indigo sea engulfs them, easily elevating them amongst the best beaches in Greece. Easily accessible by car, the unique landscape captivates travellers every summer.
While the main bay is rather small, the rest of the Paleokastritsa beaches are wider and shimmering. With a total of 6 shores for travellers to enjoy, it claims a high place among the most charming bays of Corfu. The cold, pristine waters, the golden sand and the olive groves in the background create a very intriguing ambiance.
The Red beach owes its name to the volcanic landscape it forms into. Immense crimson cliffs sides crumbling into the pristine Aegean Sea, created a mysterious and inspiring bay. It may get a bit crowded during high season but it's definitely worth the time.
Located on the south-eastern coast of Thassos, Alyki beach is a place of serenity and fantastic landscape. The lush vegetation and natural marble quarries create emerald shading on its crystalline waters. The bay is organized and hosts tourist infrastructure along with few traditional houses.

One of the gems in Eastern Aegean, Seychelles beach is a small piece of heaven on earth. Its bright turquoise waters contrasting beautifully on the imposing white rocks allow for a memorable ambiance. It is a natural bay with white pebbles, one of the top beaches in Ikaria.
On the small island of Agistri, an untouched, stoney bay can be found. Chalikiada owes its name to the white pebbles adorning it, as it is hidden in a very steep-cliff area. The great vista and piscine-like waters attract quite a few tourists annually, mostly campers and adults, as the bay is not easily accessible.
A very intriguing beach is Kolona in Kythnos; it resembles a column (as its name suggests) of pure sand that connects the island with the islet of Agios Loukas. Being an untouched area, travellers can bring their summer gear to enjoy the pristine waters, while a nearby tavern can provide delicious meals. 
A fantastic bay to visit while in the northern Ionian region, Voutoumi is situated inside a sizable cove of whitewashed cliff sides with lush vegetation. The turquoise waters and pebbled shore are a pole of attraction for visitors from Paxoi, Corfu and even Parga on the regular. 
Another fragment of heaven can be enjoyed at Kythira island, when you visit Kaladi bay. A remote, pebbled seashore a few kilometers away from the main town, it is engulfed in azure waters and imposing rock formations. It is an ideal destination for diving and swimming but no tourist amenities exist on site.

An amazing beach of fine sand and clear blue waters, Pori is an Ano Koufonissi bay no-one should miss. Completely untouched, its crescent shape keeps it calm and secured. It is within walking distance from Chora Town, while taking extensive summer gear along for the day is recommended.
20+1 most picturesque villages & towns on the Greek islands for 2021:
Oia is by far the most well-known village in Santorini, perfectly dotting the top of the volcanic caldera with its cubic, whitewashed buildings. Effortlessly flaunts the praised Santorinian sunset, its well-preserved architecture, luxurious lodgings and Michelin-star caliber restaurants.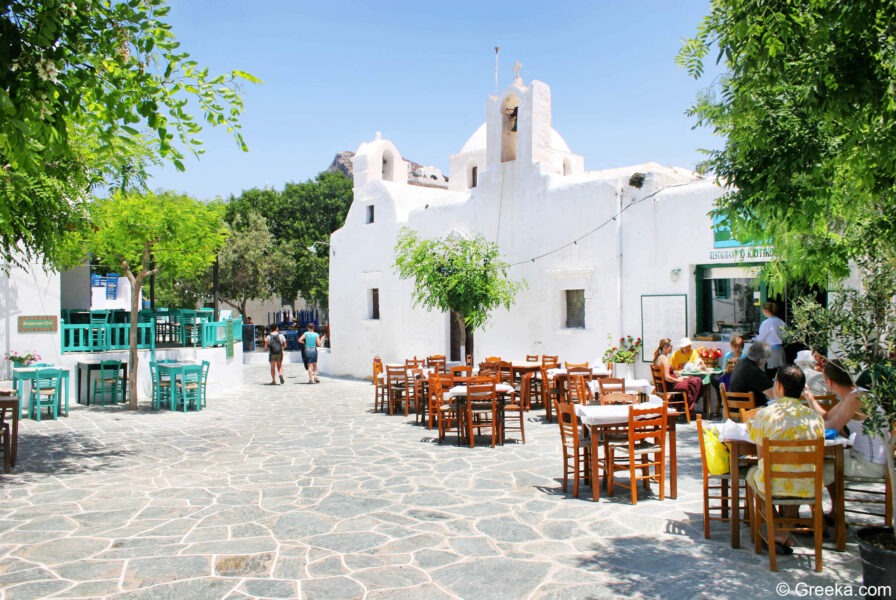 The main town of Folegandros island is situated atop the mountainous plateau, at a 200 meter altitude. It is easily one of the most authentic Cycladic settlements, offering a romantic nostalgia in every square and alley alike. A bright, whitewashed village full of colorful details, uplifting flowers and one-of-a-kind boutiques, Chora is a must-visit of the island.
Rhodes Town is the queen of Dodecanese settlements, once as an island's capital and secondly as the region's. Immersed in elegance, history and pristinely-maintained medieval structures, Rhodes Town is ever vibrant and cosmopolitan. It combines centuries of traditions, folklore heritage and Mediterranean charm, unlike any other place.
Mykonos is a super busy island of Greece every summer, with thousands of tourists strolling, staying and partying at Chora as well. The town is very charming, energizing yet playful, with its whitewashed cubic architecture and ultra-bright colored details. Dozens of fantastic boutiques, taverns and cafes complete its hospitable vibe, while clubs and luxurious lodgings add an upscale tone. With many things to explore, enjoy and savor, Mykonos Town does not disappoint.
As the island's capital town, Corfu Town is more populous than any other Ionian town. It flaunts exquisite mixtures of historical and architectural heritage and culture. From Venetian castles to French garden architecture, the elegance and charm of the town is astonishing. Delicious restaurants and lovely cafes along the promenade enhance any traveller's experience. 
A lovely, colorful settlement at the north part of Kefalonia, Fiscardo is annually visited by many travellers. It has a lot of tourist facilities and establishments while still respecting and retaining its unique character. From its waterfront, one can enjoy views of neighboring Ithaka island.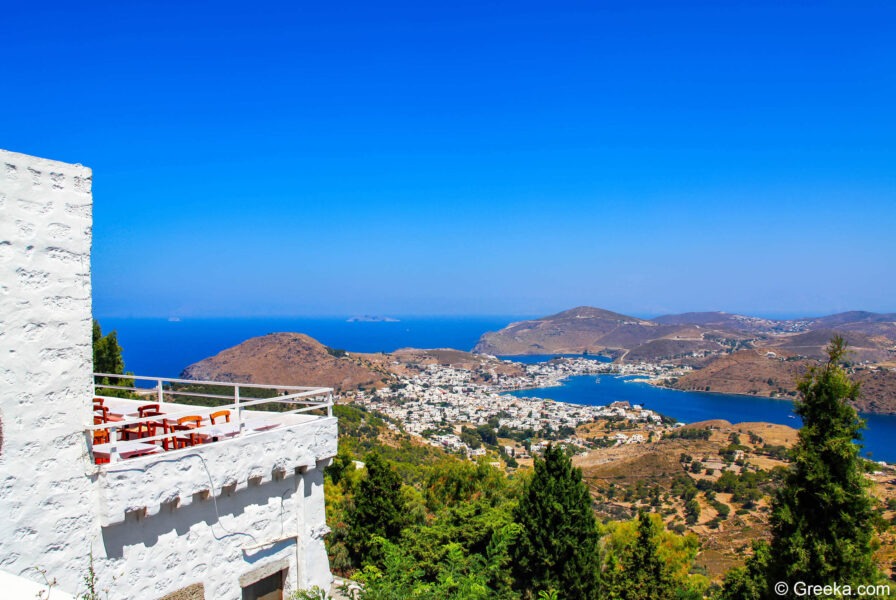 Chora is the main town of Patmos, with an elegant and unpretentious character that captivates travellers. The settlement is built around the imposing monastery of Saint John the Theologian, dating back to the 12th century D.C. . Patmos is reputed for its religious aspect and Chora is adorned with Orthodox monasteries, castles, schools and churches that deserve in everyone's travelling itinerary. 
One of the coziest and traditional settlements in Naxos is surely Apiranthos, situated at a 650 meters altitude on the island's mountainous side. It flaunts exceptional views into the surrounding valleys, interesting thematic museums and folklore heritage. Here, the Venetian influence is more articulated, enhancing the island's beauty.
Situated on the mountainous slopes of the island, Olympos is a colorful, old-fashioned village of 400 inhabitants. The area is rather remote and tranquility reigns; a handful of tourist facilities, like lodging and the occasional traditional cafe or tavern can be found.
Built inside a verdant area, Pyrgos is one of the largest settlements in Tinos, with important cultural heritage to account for. It is inspiringly adorned with white marble in buildings and squares, along with its whitewashed structures. Birthplace of many Greek sculptors, Pyrgos hosts a museum to honor them, along with many wood carving workshops and a Fine Arts School operating.
As one of the most beautiful and well-preserved medieval settlements of Lesvos, Molyvos is certainly worthy of a visit. With an awe-inspiring medieval castle crowning the village, numerous Byzantine churches and the aesthetic neoclassical structures, Molyvos does not disappoint. There are quite a few tourist facilities as well to make any traveller feel welcome.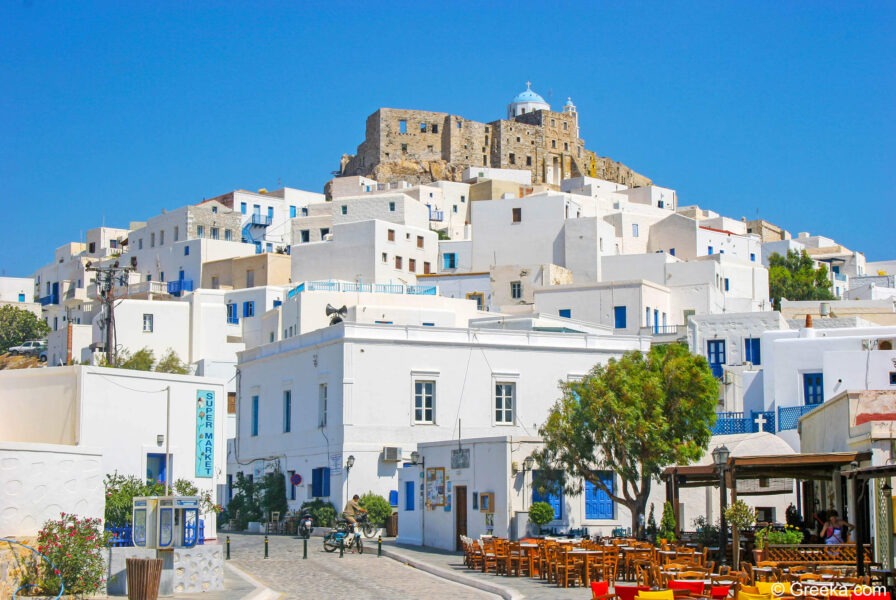 Chora is the capital of Astypalea and its core tourist hub. Built atop a hill, it spreads along the coastal side and has incorporated Cycladic architecture even though it belongs in the Dodecanese region. The remains of the Venetian castle named Querini crown the town and two Cycladic churches exist inside them. The picturesque windmills and flowers present give it a unique charm, while a variety of cafes, taverns by the shore and many lodging facilities ameliorate any visit there.
Chania is an unmatched town when architecture, history, entertainment and hospitality are discussed. Rich in Venetian heritage and landmarks, along with some Ottoman influences, Chania are irresistible, captivating visitors with a nostalgic, yet romantic charm. The Venetian port in the old town, the 16th century Lighthouse and the 'Firkas' fortress are among the top landmarks of Chania. The vivid nightlife and top-quality restaurants, bakeries, cafes and boutiques complete one's stay.
The delightful town of Rethymno combines modernity with tradition, with the new and old towns welcoming visitors. Built around the imposing Venetian fortress, the old town hosts intricate architecture, cultural monuments and splendid Ottoman fountains. The municipal gardens are a verdant gem and the ancient sites are there to be explored. In the new part of Rethymno Town a plethora of tourist amenities and accommodations can be easily located; the ambiance is lively, welcoming and captivating all year long.
Consisting of two picturesque settlements, Chorio and its natural port of Gialos, the Town of Simi is an intriguing location in the Dodecanese region. Once a very wealthy area due to its trades and craftsmanship, Town is adorned with neoclassical buildings, amphitheatrically constructed in bright colors and imposing entrances. The serene island welcomes large numbers of tourists annually, entertaining them with Gialos's vivid nightlife and Chorio's cultural heritage.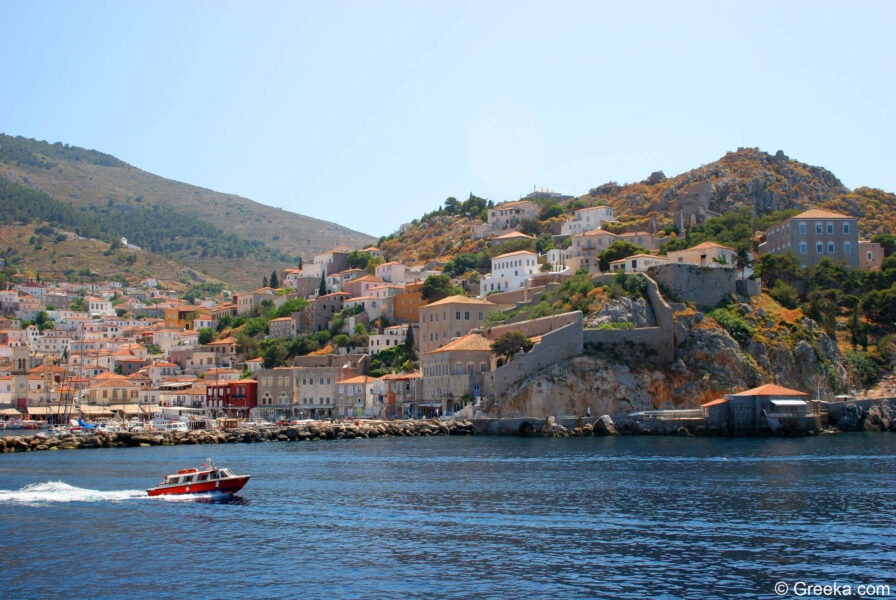 As the main harbor and town of Hydra island, Hydra Town embraces hundreds of visitors annually. Built on the cliff sides of a natural harbor, it is well-protected from the elements and thus thrives. Its vivid architecture incorporates the white element of the Aegean, along with colorful buildings and details in a unique Mediterranean island style. Enjoy local museums, cute narrow alleys, preserved mansions, amazing sunsets and various tourist amenities; Hydra Town has it all.
Former capital of Paros in the medieval era, Lefkes is by far the most authentic settlement in Paros. Counting approximately 500 inhabitants, it remains true to its Cycladic identity, away from mass tourism. The well-cared for paved alleys, snow-white houses and verdant gardens are as pretty as a fairytale. Savor the traditional cafe, folk art museum and peaceful Orthodox churches for a memorable visit.
The Town of Kythira (also named Chora) is a picturesque and inviting settlement on the southern tip of the island on a highland, overlooking the Myrtoo Sea and interestingly belonging to the Ionian island complex. Its architecture consists of a beguiling mixture of Venetian mansions, castles, British castles and Cycladic elements, giving it a cosmopolitan aura. Amazingly maintained municipal buildings, well-hidden souvenir shops in the alleyways, delightful flora and culinary establishments by the seafront compile a folklore mosaic you shouldn't miss.
A truly unique village located in the Masticochoria ('mastic villages') area of Chios, Mesta features a folklore heritage of wealth due to significant mastic production. The architecture is fascinating, as it combines the necessity of defense and optimal utility and thus, the stone buildings are conjoined to minimize the pathways. With only 400 inhabitants today, it remains protected from mass tourism.
A charming medieval settlement only a few kilometers from Apollonia village, Kastro (meaning castle) welcomes its visitors annually. Built on top of the ancient capital of Sifnos, it is a gem of Cycladic minimalism to this day. Venetian parts, architectural attributes and decorations can be found on most structures. Flaunting a stunning little Orthodox chapel atop a humongous sea rock, a small archaeological museum, wonderful lodging facilities and traditional taverns, Kastro offers a peaceful summer getaway.

Chora overlooks the Aegean Sea and the plateaus beneath, offering excellent vistas. Loyal to the Cycladic architecture, it hosts dozens of cubic, whitewashed buildings, among them many idyllic museums, churches and squares. Chora is a perfect village for adventure-seekers, optimal for hiking through its pedestrian-only narrow pathways, while accommodation can be found mainly at the port of Livadi.
The post Best beaches and villages on the Greek islands for 2021 appeared first on GREECE TRAVEL BLOG BY GREEKA.